Loading Rock Paper Scissors Challenge - Please wait 15 secs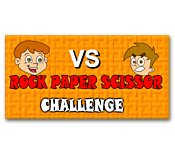 Rock Paper Scissors Challenge
Choose Rock, Paper, or Scissors and defeat your opponent! Use your wits to win as many times as you can in this classic game! Can you make it to the very end of the game and become the master?
Classic gameplay
Hilarious art
Rock, Paper, Scissors!
HOW TO PLAY: To play your online game click the Green
Button located below.